Thank you to our 2017 Appetite for Education Sponsors.
This event was held on
March 4, 2017.



Jeffrey L. Leonard, DMD
Thomas G. Leonard, DDS
(978) 470-3700
28 Chestnut Street, Suite 8
Andover, MA 01810

Andover Pediatric Dentistry
1 Elm Square, Suite 1D
Andover, MA 01810
978-296-4964
www.AndoverPediatricDentistry.com
Courtesy of Andover Pediatric Dentistry and the Morell-Romero Family
USA Top Education
info@usatopedu.com
UTE provides educational opportunities for Chinese students to live and study in the United States. Our goal is guiding the students to get accepted to American Universities of their choices.
Best wishes from the Falvey Family and Plaistow Pediatric Dentistry & Orthodontics
Plaistow Pediatric Dentistry & Orthodontics
166 Plaistow Road
Plaistow, NH 03865
www.PlaistowSmiles.com
(603)974-1150


999-B Osgood Street
North Andover, MA 01845
978-655-7455
giannadesigngroup.com
Aesthetic, Implant and Family Dentistry
Nicholas T. Papapetros, DMD
Leo Kharin, DMD
Chiara Castellucci, DMD

19 Barnard Street, Andover, MA 01810
Tel: 978.475.5333 Fax: 978.470.0287

www.smileandover.com
1 Commonwealth Drive
Lawrence, MA 01841
888-257-6900
Tony Tannoury, MD.
Your Comprehensive Spinal Care
Featured in Boston's Top Doctors 2016 by Boston Magazine

Dr. Tannoury is Chief of Spine Surgery at Boston Medical Center and Boston
University School of Medicine. Internationally recognized for developing and
patenting Minimal Invasive (MIS) techniques and implants that are widely
used worldwide. He is the inventor of Johnson & Johnson's MIS Spine Portfolio
that includes award winning copyrighted systems on the market today.
Office: 725 Albany St #4b --- Boston, MA 02118 --- Tel: (617) 638-5633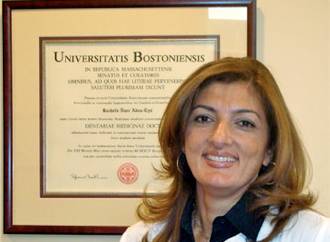 EZ Dental
Rachelle Abou-Ezzi, DMD
Family & Cosmetic Dentistry
Chestnut Green @ the Andovers
555 Turnpike Street, Suite #55
North Andover, MA 01845
PH # 978-685-5562
ezdental@comcast.net
www.ezdentalgroup.com
The Art of Smile and the Center of Comfort